L2 typical application: LED Lighting
Provides wireless I/O expansion for P1 programmable controller
2 AO (0-10V DC)
Description
L1 and S1 are an I/O expansion for the P1 programmable controller. Once L2 is attached to a Air-Bus network, 2 outputs of the L2 and sensors or S1 become available for graphical programming in the P1. Graphical programming is done using free InetSupervisor Portal app.
The two analog outputs are typically used for lighting automation, one for dimming and the other for a relay or dimming of a second LED channel in fixtures capable of circadian tunable functionality.
Please note that LED fixtures can be ordered with a driver that features AUX 12 V DC output used to power the L2, and feature DIM TO OFF functionality on their 0-10V dimming input, which allows L2 to shut off the fixture just by lowering the dimming signal thus eliminating the need for a relay. Inventronix and many others manufacture such drivers.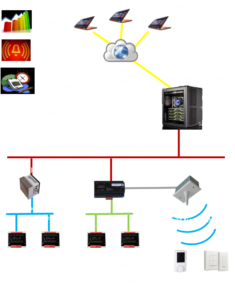 Network Architecture with P1